We're The Apple Press and we believe we make the world's best apple juice. And that's not a marketing ploy or a gimmicky statement, it's a commitment our whole company is built on.
We take the world's best apples and cold-press them into single varietal apple juices, with no added sugar or preservatives. Find out more about our journey below!
It all starts with our Founder, Ross Beaton. Ross started growing apples back in 1982 and built a successful apple business exporting apple to 45 countries. Ross is seriously passionate about apples and was always bothered about the "Ugly Fruit" -the apples that were of 'A Grade' taste and texture but went to waste because they weren't pretty enough for export. He had a burning desire to do something about it!
In 2013, things got exciting when Ross met Sally Gallagher, Hawke's Bay's Food Innovation Specialist (she's really clever) and with a shared vision, The Apple Press was born. Together they set out to make all-natural, quality, varietal led apple juice in significant quantities, but they couldn't find a factory with the capability to do it. "So, I thought, I better build it" said Ross. Today his plot of land in Whakatu, Hawke's Bay is home to The Apple Press production facility using some of the very best technology in the world, to craft the world's best apple juice, for you.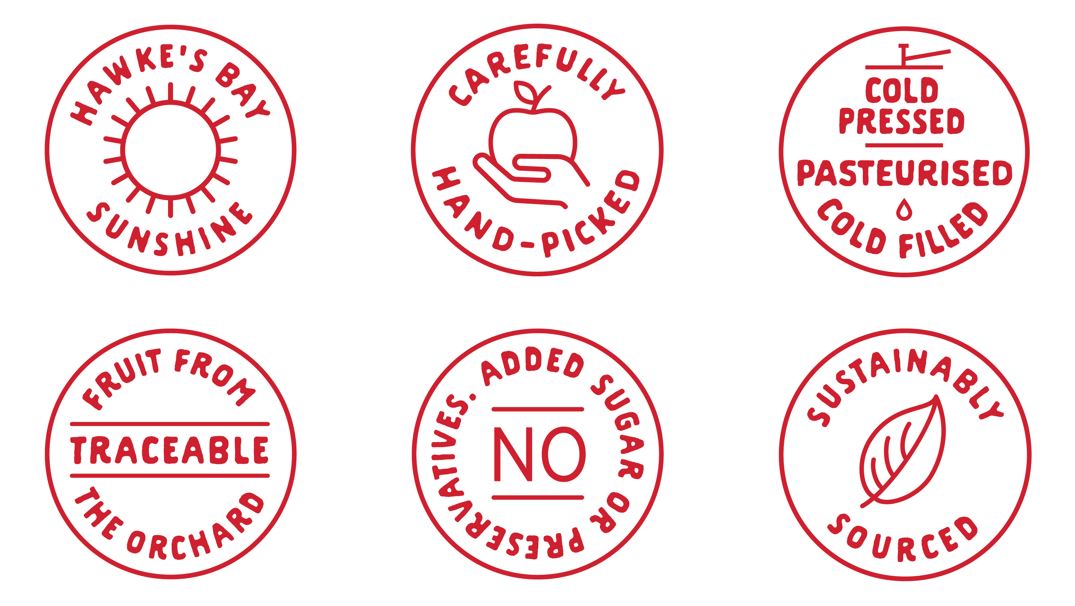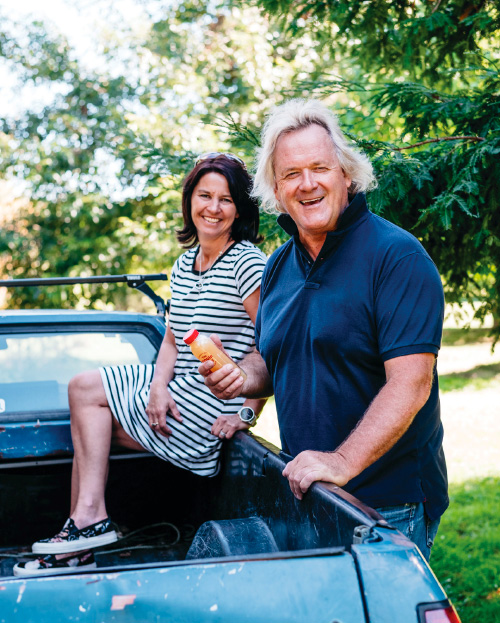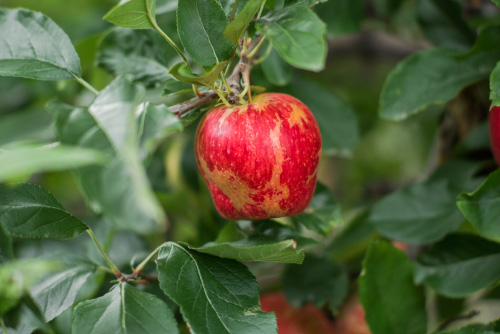 Here at The Apple Press, we don't think looks should matter, which is why we take the "cosmetically blemished" apples (aka Ugly Fruit) that aren't considered pretty enough for export, and craft them into the world's best apple juice. Ugly Fruit still has A Grade taste and texture, with that same crispy crunch and delicious sweetness when you bite into it, so we make it our business to ensure those apples fulfil their apple destiny by being enjoyed by apple lovers around the globe.
And of course, reducing waste is better for the environment and that's a beautiful thing.
Fast forward 5 years to 2018 (because good things take time), and the very first The Apple Press single varietal juices; Royal Gala, JAZZ™ and Braeburn juices landed in New Zealand supermarket chillers.
Also launched at the same time was the "Apple & "range-where we carefully matched our beloved apple with other favourite fruits; Royal Gala and New Zealand Feijoa, Braeburn and Valencia Pulpy Orange and Braeburn with Hawke's Bay Pear.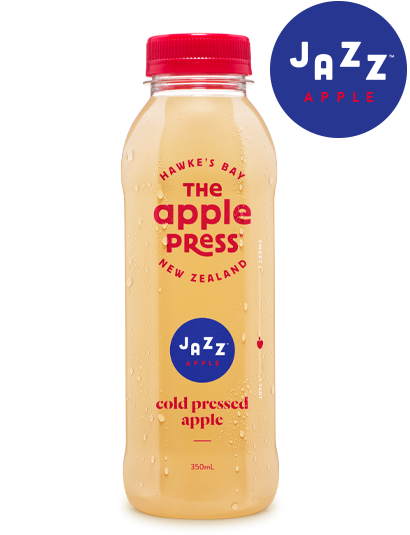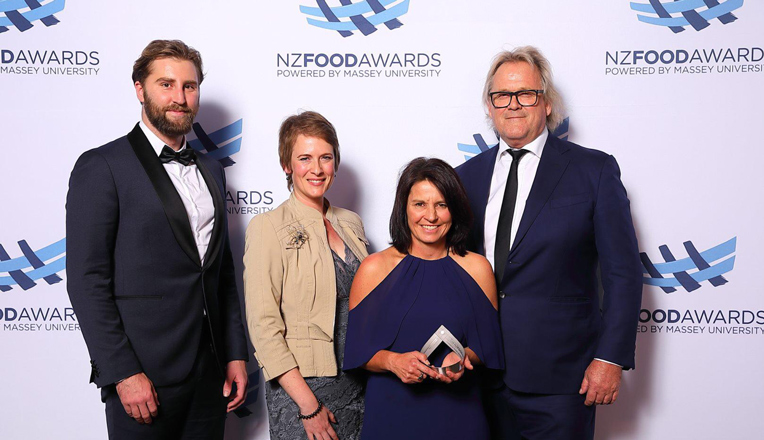 The Apple Press wins New Zealand Food Award
In 2018 The Apple Press JAZZ™ juice was awarded 'Best Non-Alcoholic Beverage' at the New Zealand Food Awards, beating 23 other entries!
New varieties join the family
Pink Lady® & Envy™ join The Apple Press family.
Pink Lady® is deliciously tart and Envy™ is the sweetest of them all!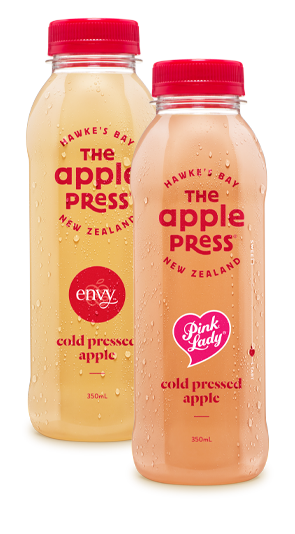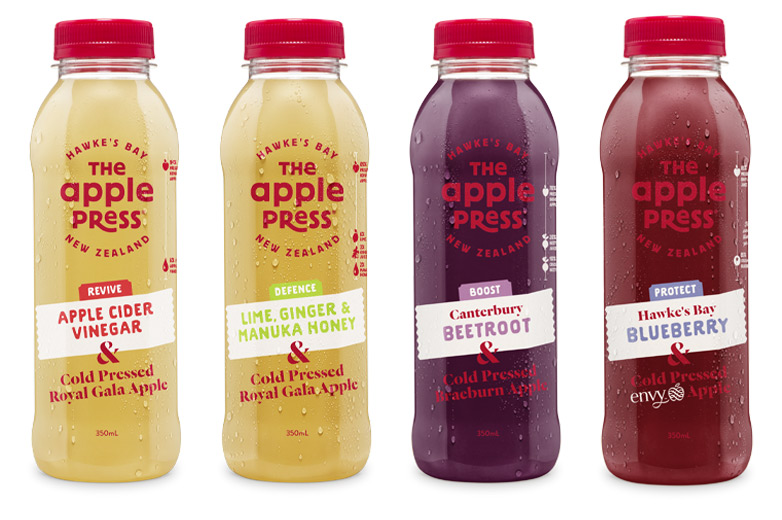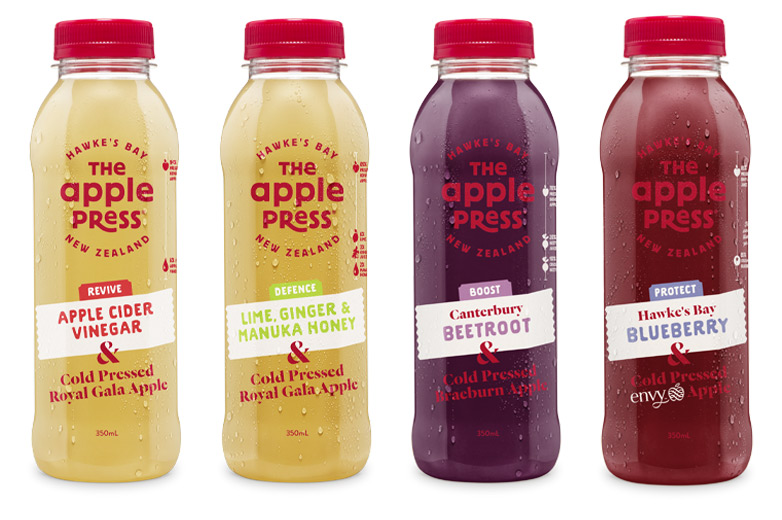 Apples are extremely nutritious with a long list of health benefits so for us here at The Apple Press, it seemed only natural to create a Wellness range, crafted specifically for health and vitality.
In late 2018, we released Royal Gala & Apple Cider Vinegar to "revive", Royal Gala with Lime, Ginger and Manuka Honey to "defend" and Braeburn and Canterbury Beetroot to "boost".
In 2019 we added Envy™️ and Hawke's Bay Blueberry to "protect".
Gold Medal Black Box Award
In 2019 we won a Gold Medal Black Box award for The Apple Press JAZZ™ Apple Juice! After 2500 Black Box members tasted our juice, 90% voted that they would recommend it to others!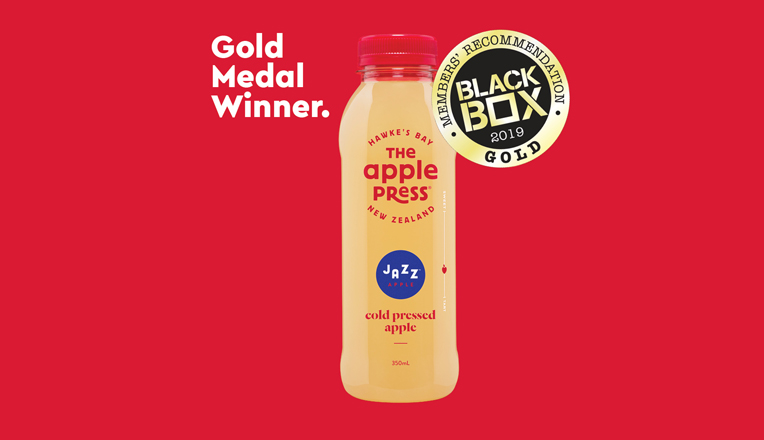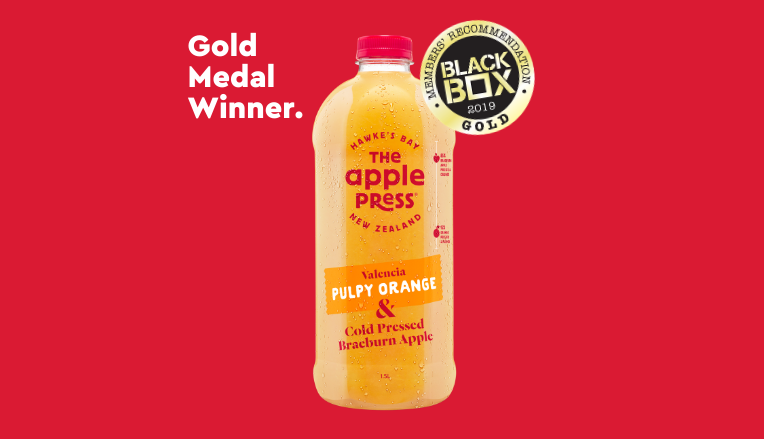 Another Gold Medal Black Box Award!
In Dec 2019 we won a another Gold Medal Black Box award for The Apple Press Braeburn Apple & Valencia Pulpy Orange Juice! After 2500 Black Box members tasted our juice, 90% voted that they would recommend it to others! Founder and Owner of The Apple Press, Ross Beaton says it is a real honour to scoop a second Black Box Gold Medal.  "We are really chuffed that Kiwis are loving our "Apple &" range. We take the world's best apples and perfectly match them to other fruits and vegetables to create what we believe is the world's best juice".
A new variety joins The Wellness Range!
In July 2020 we added Gold Kiwifruit & JAZZ™ apple to The Wellness Range.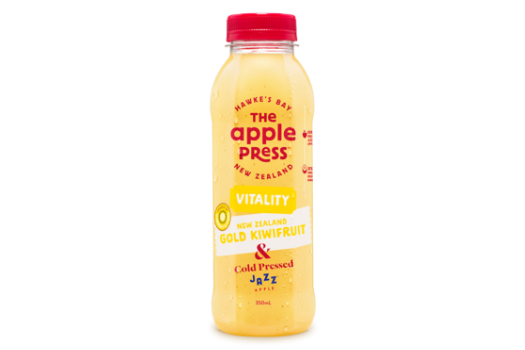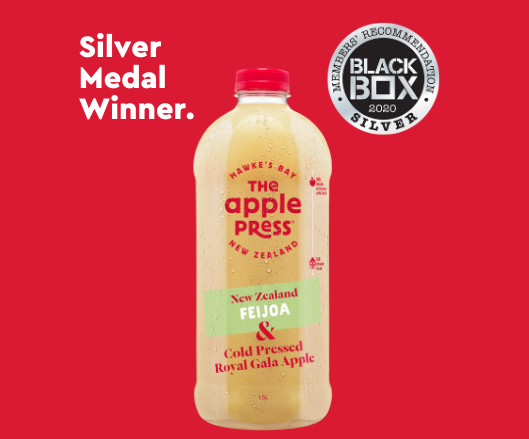 Silver Medal Black Box Award!
Black Box Silver is awarded to product that has achieved 80-89% recommendation scores.
World's Best Apple Juice takes on the world!
2021 brought a new customer in China, Sam's Club, joining our growing export markets Australia, Hong Kong, Taiwan, Thailand and Japan.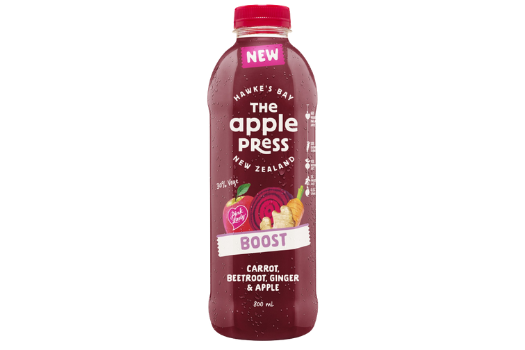 Beetroot and carrot, matched with our tangy cold pressed Pink Lady® apples and an added ginger zing! Boost is a new addition to our Wellness range.
All three of our products entered in the 2021 Black Box Chilled Delights campaign picked up awards! Pink Lady® took out a Gold award and both Envy™ and Royal Gala nabbed a Silver award each. These awards are based on consumer recommendation.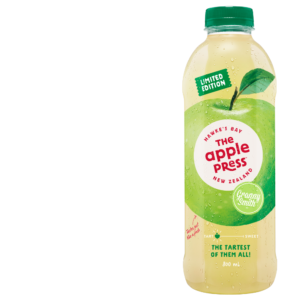 The name's Smith… Granny Smith.
We launched a much anticipated and limited edition Granny Smith juice! Granny Smith broke the tart scale on our sweet-o-meter but was a favourite in New Zealand. We found all the Grandma's with the last name Smith to have the first taste test, it was only fair the namesake had first try.
The Apple Press goes Curvy
We've taken the 'new year new me' mantra seriously this year – and 2022 marks a new 'curvy' frontier for The Apple Press.
Behind the scenes we've been working hard to develop a new bottle worthy of 'the world's best apple juice'. Now after months of prototyping, testing and designing – we are ready to share it with the world!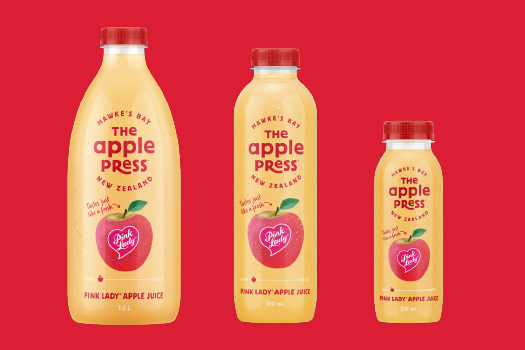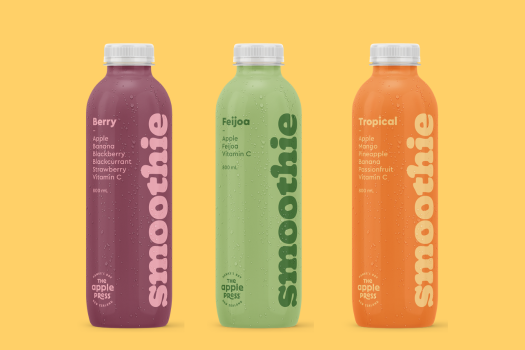 We released a range of Smoothies
Introducing The Apple Press's new smoothie range, hitting supermarket shelves in April 2023!
Known for high-quality apple juices, we're expanding with three delicious flavours: Berry, Feijoa, and Tropical. These smoothies are delicious, have added Vitamin C and are combined with fresh fruits for refreshing, convenient on-the-go options.