A Gold Medal win for The Apple Press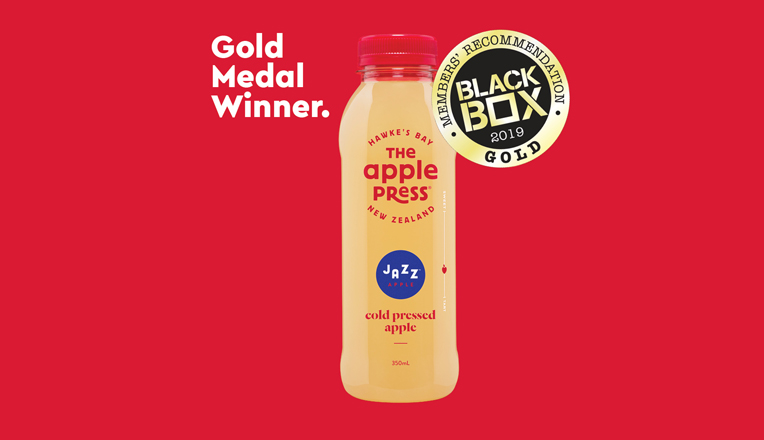 Hawke's Bay's premium beverage company, The Apple Press, have scooped another award to add to their collection, this time the highly coveted Black Box NZ Gold Medal.
The Black Box is New Zealand's first In-Home Marketing Agency, connecting thousands of Kiwis to consumer brands and products, with their prestigious Gold Medal only awarded to products that receive 90%+ recommendation scores from consumers.
A whopping 2500 Kiwi shoppers took part in the Black Box consumer tasting campaign. After tasting The Apple Press JAZZ™ juice, 90% of Black Box consumers voted they would recommend The Apple Press JAZZ™ juice to others, with a further 78% confirming that The Apple Press JAZZ™ juice made them want to drink apple juice more often.
Founder and Owner of The Apple Press, Ross Beaton said he and his team were absolutely chuffed to win the Gold Medal. "We believe we make the worlds best apple juice so to know that Kiwi shoppers love our juice so much they want to tell everyone about it is just fantastic. We're making apple juice great again!"
Comments from shoppers included:
"It was literally like having the apple but in juice form"

"I typically prefer orange however after trying The Apple Press juice I am converted to fresh apple juice"
"This has positively changed my perception of apple juice forever"
Other awards for The Apple Press include " Best Non-Alcoholic Beverage" at the 2018 NZ Food Awards.
The Apple Press is a Hawke's Bay based beverage company, who hand pick and cold press all the flavour and goodness of a tree-ripe Hawkes Bay apple and craft it into apple juice made from individual varieties such as JAZZ™, Braeburn, Royal Gala, Pink Lady® & Envy™ (No added sugar or preservatives).
The Apple Press believe in "great taste and low-waste", sustainably sourcing the "ugly fruit" rejected for export, with every apple traceable back to their orchards of origin.